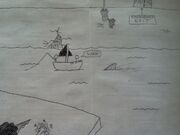 Welcome to the Land of Meap Wiki
Edit
The only source to find out about Meap, Puff, and the rest of the Land of Meap on the web. *UPDATE* all of the hyperlinking now works, sorry about the former inconvenience. :) I would like to make it known that black text is hyperlinking.
This Wiki was made by MeapComix2000, feel free to add to the website if you think you know your Meap!
About the Land of Meap
Edit
The Land of Meap is where the comic book series MEAP takes place. It is a large country on the planet Celsian neighboring the small countries Hoff and Hanzhan. It is just south of the Capitol country Tolono, which is across the Meap Sea. There are many creatures in the Land of Meap, like froggs, "puffs," penguos, deathwolves, happfish, and lots more! Meap Mansion is located near the center of the Land of Meap, this is where Meap and Puff live. If you have read the Meap comix and think you know your Meap, please add to and create pages on this site! Thank you for visiting landofmeap.wikia.com!
Latest activity
Edit
Community content is available under
CC-BY-SA
unless otherwise noted.